One of the greatest joys of catering is to create different food for each time of year. We view each job as the punctuation of a secular or religious event dear to the heart of each family or group. We love cuisines of the world and the diversity of ethnic and cultural backgrounds that sits behind them. We are students of the rich culinary diversity of New England and consider ourselves humble curators of this gastronomic diversity. We feel honored to be invited to such unique moments in the life of our clients and share in their emotional journey.
FAMILY EVENTS
At Heritage, we love catering anniversary, birthday, bridal shower and neighborhood parties. We will bring our food truck to your backyard or simply deliver and serve food at your chosen venue. We specialize in intergenerational events where young people with curious palates and health-conscious habits peacefully coexist with meat-and-potatoes parents suspicious of ethnic street food and vegan tendencies.
SUMMER PARTIES, FOURTH OF JULY PARTIES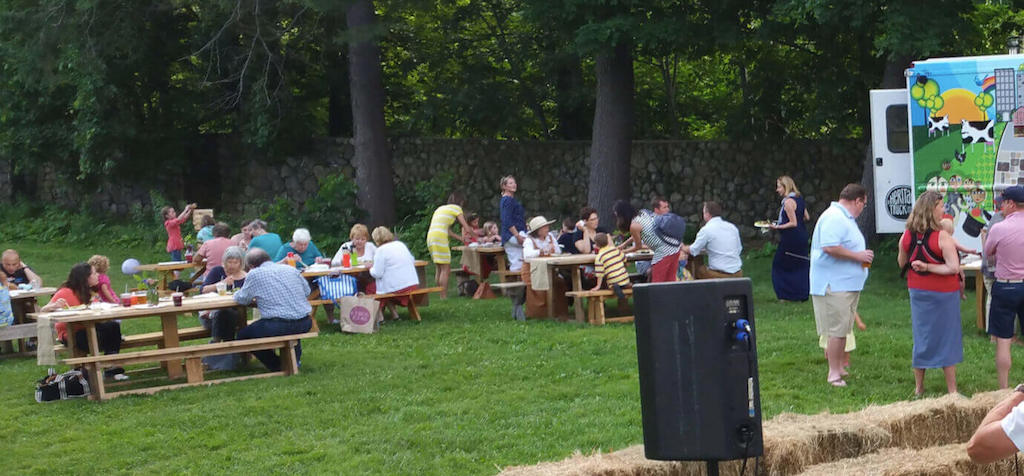 You know summer has arrived when the smell of barbecued meat starts tickling your nostrils around the 4th of July. It is time for Bourbon-laced ribs and briskets from neighboring farms. Throw in some local potato or pasta salad, a flurry of early vegetables mixed into a zingy gazpacho, perhaps supplemented by a peach cobbler made from Ward's Berry Farm famous fruit. For those who prefer seafood, we also work with local fishermen and will set up a full clambake for you.
Here is an example of a summer party on private grounds, with BBQ theme; the truck is set up in the driveway, and serves as a mobile kitchen.
GRADUATION PARTIES
Come May and June of each year, Heritage Food Truck Catering finds its way to the various high schools, colleges and universities of Massachusetts – and there are many of them – to accentuate with exceptional food the scholarly achievements of young students with their families and guests.
SAINT PATRICK'S DAY
For the Irish among you, we will brine brisket and cook it for hours in our ovens until it yields the finest corned beef you have ever put in your mouth. We will of course also boil local cabbage from our root cellars as its inevitable companion.
If you don't care for Corned Beef and Cabbage – and this may jeopardize your status as a member in good standing of the Irish community – we offer shepherd's pie as a possible alternative to redeem yourself. We use local ground lamb or beef, enhanced by generous splashes of Guinness beer, of course, add some indigenous carrots, peas and onions, and top the whole thing with garlicky mashed potato topping.
Ready to find out what we can offer for family event or holiday party? Fill out a catering information request here