Heritage Food Truck Catering and its sister company Stock Pot Malden have partnered with the Shah Family Foundation and the YMCA of North Boston to create and distribute meals for the school-age children and adolescents of the city of Chelsea, MA, a city North of Boston with a large, economically-disadvantaged population a few miles North of Boston. This program called Local Lunchbox delivers breakfast groceries and ready-to-eat prepared meals to 1,600 kids of Chelsea, seven days a week.
Local Lunchbox started in late June 2020 and has delivered more than 1 million meals as of this writing.
Heritage Catering and StockPot Malden were recently visited by Governor Baker in recognition of the terrific work the Shah foundation, YMCA of North Boston and Stockpot Malden have achieved over the last year.
Click on the image below to watch the video on WCVB web site (opens in new window)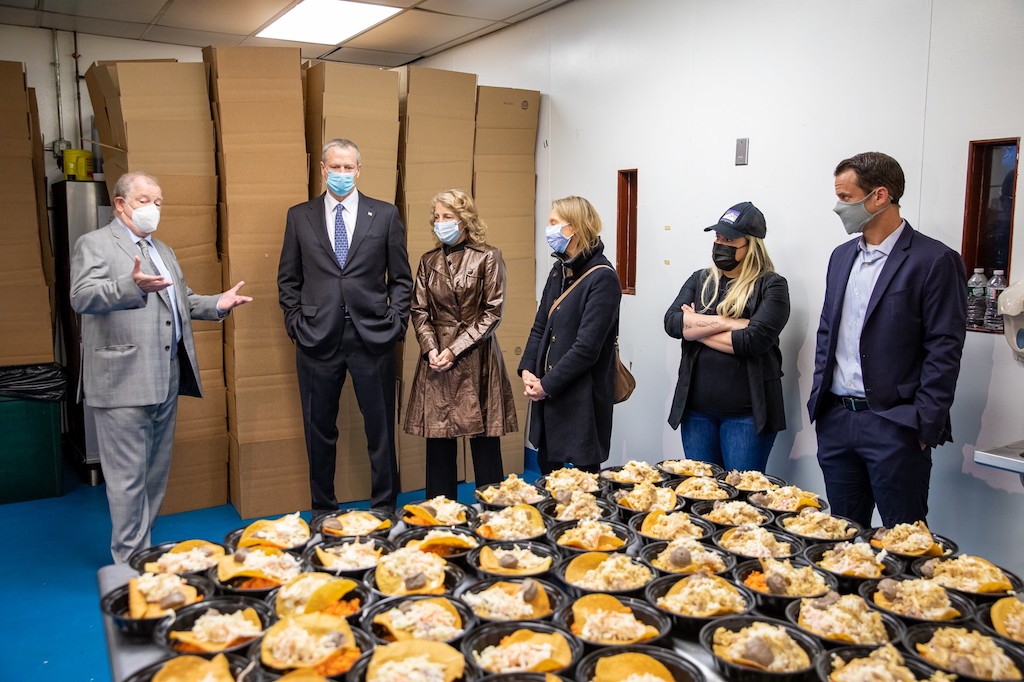 ---
The Shah Family Foundation is a Boston-based foundation that supports innovative and transformative work in education, healthcare and the community. The Foundation's primary work and support is centered in Boston, with the goal of sharing broadly the programs and innovations that prove successful in the city. The Foundation is best known for its pioneering work in helping develop new on-site kitchens delivering fresh food for children in the Public School System of the city of Boston. This initiative is described in the movie Eat Up and is credited with transforming the food experience of many kids in the Boston.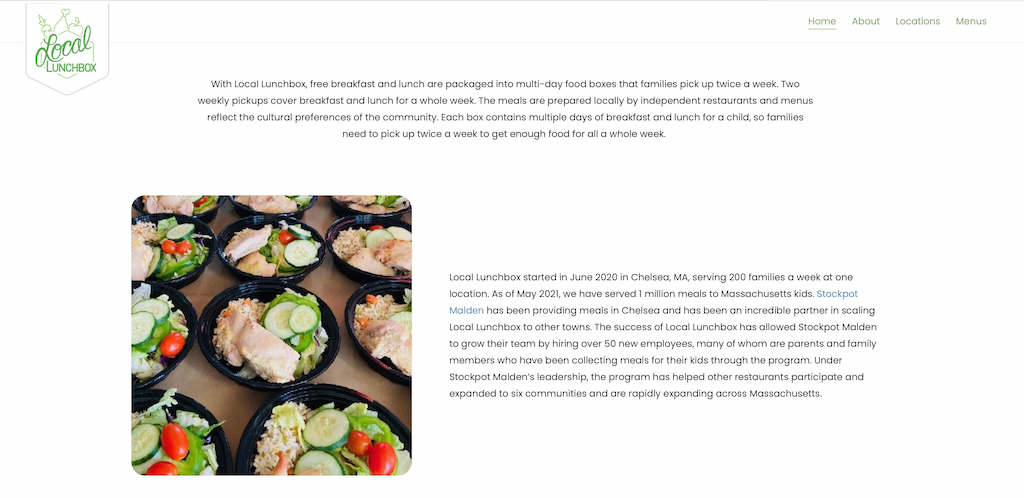 ---
Before its partnership with the Shah Foundation, Heritage Food Truck Catering was a purely private sector company with no experience of working with public or para-public organizations. The Shah Foundation approached Heritage and Stock Pot Malden initially as a vendor for Local Lunchbox it was developing for Chelsea kids, then realized we were potentially more than that and could contribute to the development of the larger ecosystem required to serve the needs of Chelsea children. The Foundation introduced us to the programs that were available from USDA, put us in touch with the Boston YMCA that administers some of the programs funded at the federal level and managed at the state level (e.g., Department of Elementary and Secondary Education), and patiently educated us on the sometimes arcane details of such programs. The Foundation does all the research required to identify the needs of the targeted population, finds the physical distribution points, orchestrates the collaboration of all the parties involved, and supplements the funding provided by federal authorities where necessary. The Chelsea Kids program has become one of the pillars of Heritage's business and it is fair to say we could never have developed this very successful program without the partnership with the Shah Foundation.