WARD'S BERRY FARM (PRODUCE)
Heritage Food Truck Catering has a unique partnership with Ward's Berry Farm in Sharon, MA and sources most of its produce from the farm. There are at least four reasons underlying this partnership: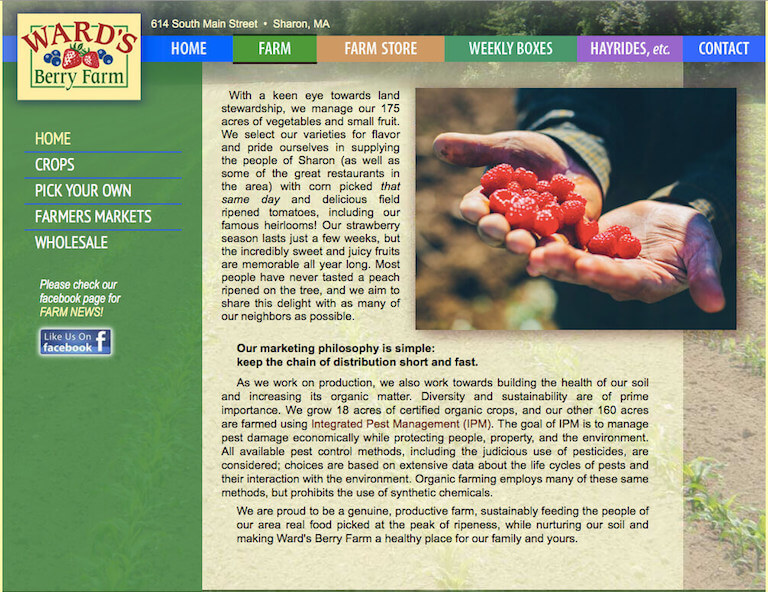 1. Ward's Berry Farm offers an exceptional quality of fruit and vegetables. It is known as the "go to" place for tomatoes, strawberries and peaches, but everything the farm offers is exquisite in taste and flavor. Jim Ward and his farming staff are not only superb farmers, but Jim is also a fine palate who constantly experiments to "design" a flavor experience that is uniquely his. His repeated prizes at the Boston Tomato Contest taking place every year are but one piece of evidence of his achievements.
2. Ward's Berry Farm practices Integrated Pest Management, which matches the Heritage philosophy of minimizing the use of pesticides while not costing as much as organic produce, thereby making quality produce accessible to a larger public (organic is great for people who can afford it, but the certification process is burdensome to the farmer and costly to the consumer).
3. Ward's Berry Farm is committed to working not only with the retail market (farm stand, CSA and farmers markets, and Ward's Berry Farm does all of those things), but also with the wholesale market (which is less common, since high-quality farmers in greater Boston tend not to bother). Ward's Berry Farm and Heritage share the same agriculture-transforming philosophy that if we are to increase the consumption of locally produced fruit and vegetables in New England, farms such as Ward's Berry Farm have to engage with the wholesale market and sell to large food supermarkets and food "processors" (foodservice companies, caterers, restaurant chains, etc.). Our hope is to make the Ward's-Heritage partnership illustrative of what can be achieved on a much larger scale by partnerships between farms and caterers.
4. Jim Ward is personally interested in the science of agriculture and food, and so is Heritage Food Truck Catering (through its Heritage Food Systems Consulting arm). Ward's Berry Farm was the lead farm for the Internet of Tomatoes project conducted by Heritage Food Systems Consulting in partnership with sweetgreen and Costa Food and Produce. Jim continuously experiments with soil amendments, seeds and new agricultural practices and is in constant search of new digital instruments allowing him to improve the quality of his crops. It is rare to find someone who is at heart a farmer, a chef and a scientist. Jim Ward is all three.

NORTHEAST FAMILY FARMS/DOLE AND BAILEY (BEEF)
When it comes to beef, no single local farm is able to maintain a year-round supply of the cuts required. But collectively, New England has enough artisan farms to offer a complete range of beef at any one time, as long as there is an aggregator of local farms willing to play that role. This is what the Northeast Family Farms arm of Dole and Bailey does, making it a natural partner for Heritage Food Truck Catering. While most consumers attention is focused on farms, we believe aggregators such as Northeast Family Farms/Dole and Bailey play an essential role in the transformation of agriculture and food, as they represent an essential link between artisan local farms and the wholesale market committed to using local products.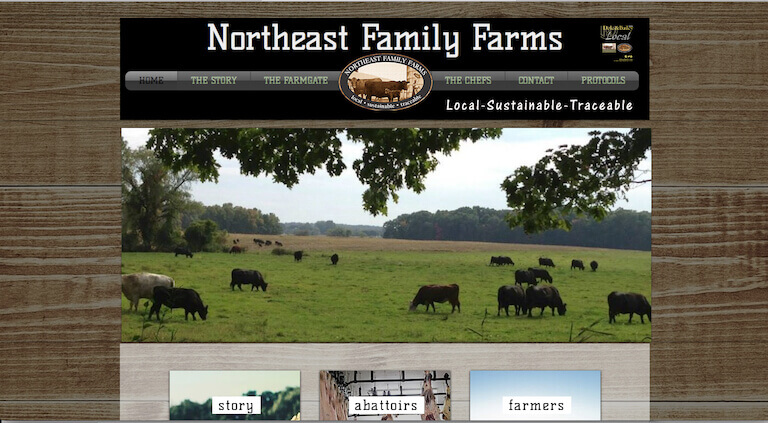 Here is what we particularly like about Northeast Family Farms/Dole and Bailey.
1. Their beef is of outstanding quality (have you tried our beef brisket with celery root puree?) and entirely locally sourced. Their cattle are raised on 100% vegetarian feeds, including grains, without the use of growth hormones, without antibiotics and humanely treated.
2. The beef is 100% traceable to the farm and the slaughterhouse where it was produced. The farms will rotate over time, but we know at all times the provenance of the meat we serve. This is a great match with the philosophy of Heritage Food Truck Catering and congruent with the scientific mission of Heritage Food Systems Consulting that is also committed to transparency and traceability of our offerings.
3. We like the fact that Dole and Bailey, mother company of Northeast Farms, has a long history of bringing quality products to the Boston Market. They were one of the original butcher stalls in Faneuil Hall market in 1868. They have long ago outgrown their original space and are now headquartered in Woburn, MA. Their management is now part of the sixth generation of leadership at the firm and the company is now woman-owned, with Nancy Matheson-Burns as sole owner of the business and a widely acclaimed thought leader on agriculture and food in New England and beyond.