Why the Heritage food truck for corporate events?
The Heritage food truck is uniquely suited to corporate events because of its unique positioning compared to traditional company caterers. When event organizers look for trendy, upscale food served in a non-traditional environment such as a parking lot, a farm, a museum, a warehouse, a beach or a building rooftop, we are happy to respond (well, getting the truck on the roof may be problematic, but we can bring the food up the staircase from the truck down on the street). Many firms in greater Boston also have young employees (e.g., biotech and technology companies) who care about building a link with local farms, eating healthy food and sustaining our planet. Many young employees (and some older ones) also favor vegetarian or vegan foods. For all these requirements, the Heritage food truck offers a unique response.
This is one of our recent event done on top of a Seaport building which is also an urban farm called Higher Ground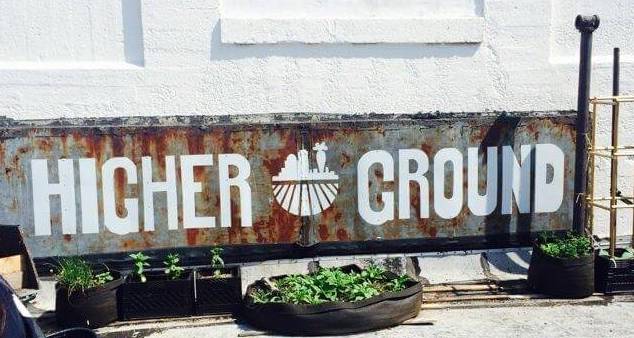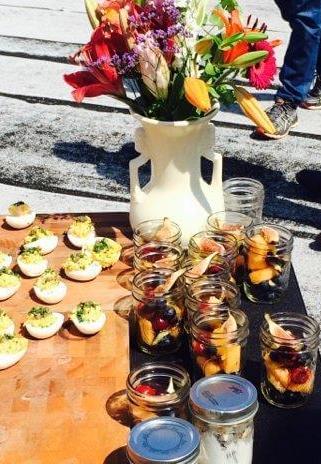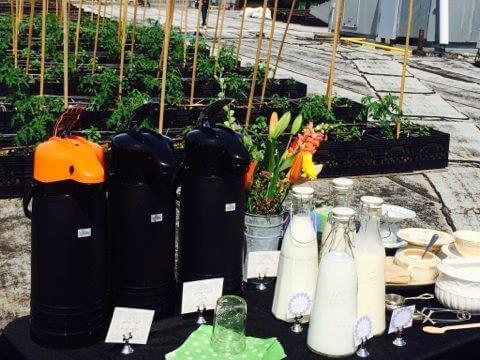 ---
Corporate events on private grounds / homes
Beyond a conventional "corporate setting", we often cater corporate events on private grounds or external venues.
See below the example of a summer corporate event organized on private property grounds, themed "summer BBQ". We coordinated the whole event, including a second food truck. The serving was "buffet style" with sit down tables on the lawn. The bartending service is a separate service which Heritage does not offer, and needs to be organized separately.
---
Organizing multi-truck events
For large events requiring multiple trucks, we are also happy to act as fleet captain and invite other food trucks to join us. We have run events with up to eight trucks for large university gatherings on campus. We have orchestrated such events for the launches of medical devices, pharmaceutical products or software offerings. We can advise you on the mix of trucks best suited for your event and coordinate all aspects of menu design, physical layout and permitting, balancing of load between the trucks and flow of payment to each truck. Our sister company, Stock Pot Malden, is home to several other food trucks with which the Heritage food truck frequently partners. We are also able to go beyond our shared kitchen and team up with other food trucks in Boston.
Partnering with venue owners and event organizers
Corporate events can be organized by members of the corporate staff, by venue organizers hired by the company, or the company may hire an event organizer. We seek to build relationships with all three groups. Since several of us worked in large corporations in our professional life, we have a unique understanding of the high level of service required by corporate events. We try to bring a combination of street food creativity and sophistication of a top-of-the-line caterer.
Because of our unique relationships with farms through our farm-to-table offering, we also encourage corporate event organizers to come to us and inquire about finding a suitable farm venue for their event.
Integrating our catering into the design of the event
We also love to integrate our food in the larger context of the event you want to run. We have participated in event designs where our food was part of the company's team-building agenda, with our staff coaching employees on how to prepare a meal together. We have given cooking workshops. We have partnered with various academics utilizing the food value chain as a metaphor for the need to create corporate alliances. Our food has been an element of treasure hunts, mystery-solving events and war games (no, we're not talking about food fights!). We love for food to be playful in addition to being delicious.