We know catering is a key component of a wonderful and successful wedding reception; we are here for you, and will help you create joyful memories.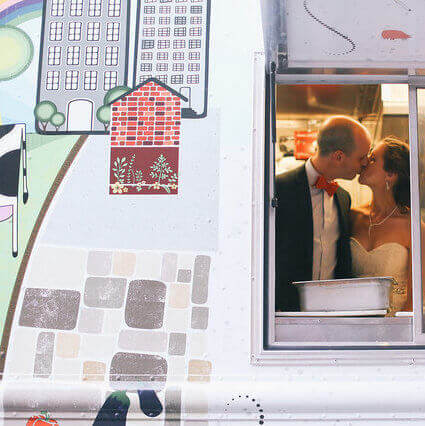 Six reasons to have a food truck wedding!
It will bring a hipster, foodie dimension to your event. The presence of our food truck on the premises will generate interest and conversation, because trucks are known for offering creative, state-of-the-art food.
You will create a splash. Your guests will want to climb inside the truck and see how it works!
It will allow you to spend less per guest than with a traditional venue event. You will not have to rent a ballroom with a large kitchen. In fact, you can have your wedding absolutely anywhere on private land. If the event is taking place in a private home, nobody will have to invade your personal kitchen.
Your money will go into the food, not the kitchen or the venue.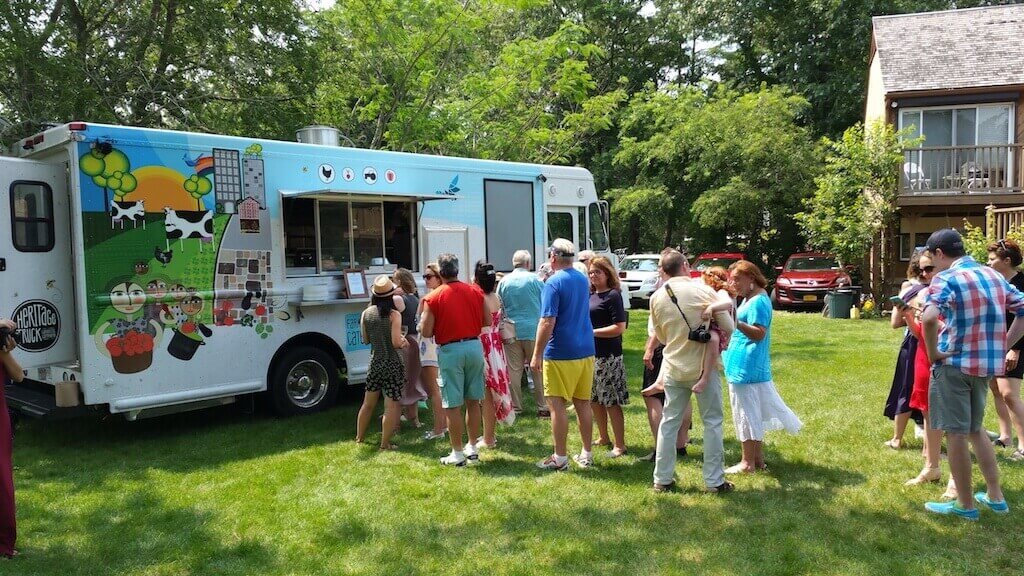 Working with our food truck will give you great flexibility in terms of wedding size and budget. We can cater casual weddings from $20 per guest all the way to $200 per guest for very high-end weddings. We do have a minimum of $1,500 per wedding.
Our Chef can duke it out with the greatest chefs of Boston, but he also knows smaller budgets can be great "street eats."
For larger events and/or ambitious menus, we can bring multiple trucks to your event. The Heritage truck is always our anchor truck and can serve up to 250-300 people, but we can bring along some of our brothers and sisters from the Boston trucking family. As a general rule, trucks need to earn about $1,500 per wedding to justify their cost, so plan accordingly.
We can transform your event into a mini food truck festival if you have a large group or a creative menu and larger budget.
We can deliver the food in a variety of ways. We can serve the truck-prepared food at tables as with traditional catering. We can set up a buffet with chafing dishes for the truck food. Or we can have guests walk to the food truck window if you want the true street-vending experience. And we can of course mix and match all of the above.
Flexibility is our middle name.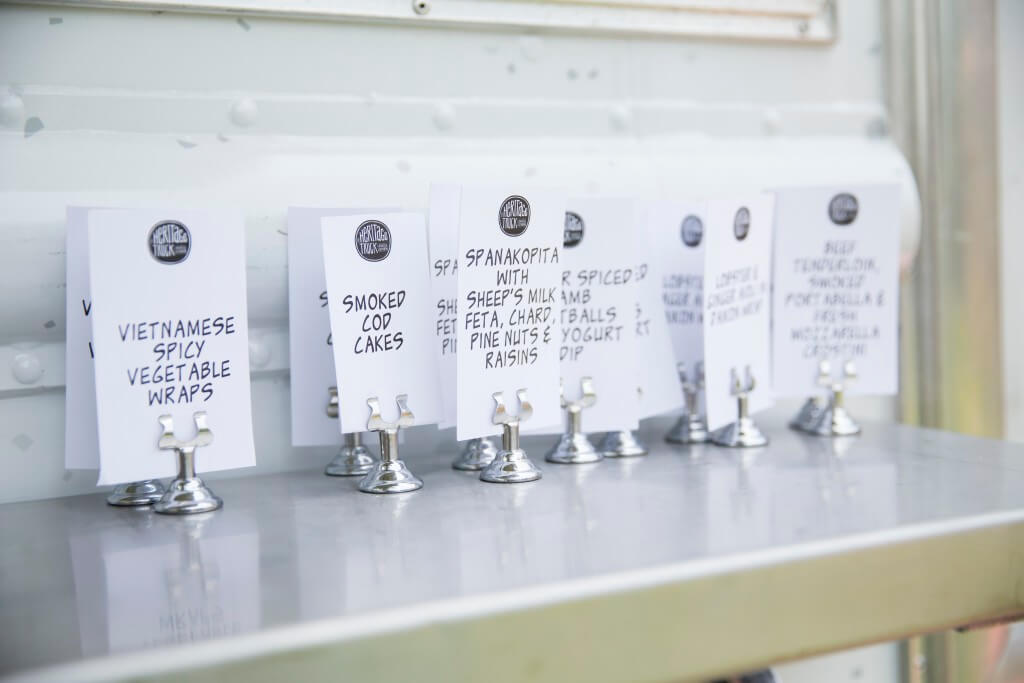 6. We organize tasting sessions periodically in our Stock Pot Malden commissary for event organizers and potential customers.
Come see us in our natural habitat and start building your event with us in real time.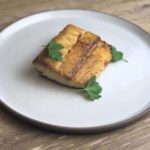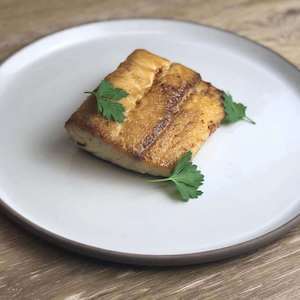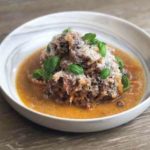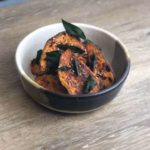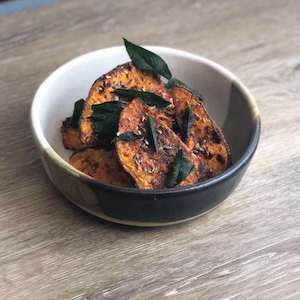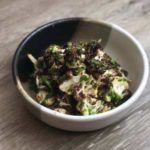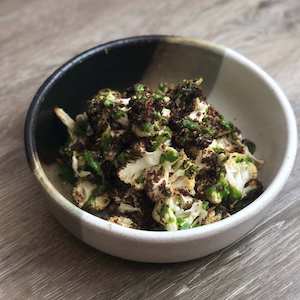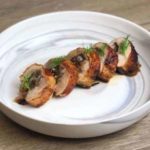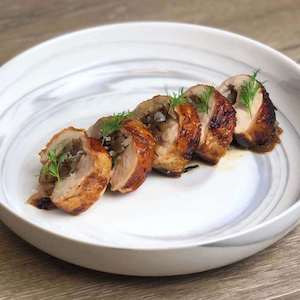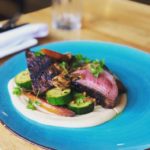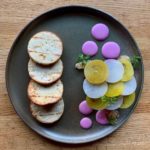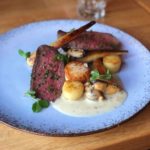 ---
SIX FREQUENTLY ASKED QUESTIONS ABOUT FOOD TRUCK WEDDINGS
Will there be long lines in front of the truck at my wedding?
There will not be any lines, unless you want to have them. We can offer table service as you would have from a regular caterer, or place the food on a buffet, like in a traditional wedding.
We are uniquely able to do that because the Heritage truck is a state-of-the-art full kitchen on wheel. It is housed in a larger-than-usual food truck (18 feet long) that comprises equipment you will not find on a street-vending food truck.
We have also devised a unique hub-and-spoke configuration that allows the Heritage kitchen to work in conjunction with other food trucks that prepare specific elements of the meal (e.g., ethnic appetizers, fish or deserts). The entire experience is orchestrated through the Heritage kitchen, creating an integrated experience similar to the one you would have with a central caterer.
What if it rains on the day of my wedding?
This is no different from any other outside event you might have. We are very happy to deliver the food as a sit-down service or as a buffet under a tent or inside an adjacent building or home.
Be sure to have a back-up plan for rainy days.
Are there regulatory issues in having a food truck at my wedding?
Food trucks are allowed to do private events such as weddings as long as they are not doing public vending or creating traffic problems. The regulation you may have heard about applies to street-vending which is indeed quite regulated by the various cities.
Professional wedding caterers let you sample their food. Do food trucks do too?
Yes we do. This is why we set up regular events in Malden where you can come and see what the Heritage Food Truck offers. Come and sample the truck and the food.
The Heritage food truck will also make house calls to show you what we can do for you (by appointment only).
Isn't it true that food trucks are best used at the end of the wedding, for people who need a nosh before hitting the road (and stabilizing their alcohol content!)?
Food truck can play this "after hour" role (e.g., hot dog truck, coffee truck), but their quality is such that they are best used as complementary to the main food truck caterer. The Heritage food truck only operates as the main attraction, but we will happily refer you to "end-of-event" food trucks.
Can food truck caterers plan my wedding food with the same professionalism as professional caterers since they are  run by chefs, not service or relationship people? Will event organizers be frustrated dealing with food trucks?
At Heritage, we have a professional food planning capability for your wedding. We will co-design everything with you: participant experience, movement of crowds, checking guest lists, choreography of food, interaction with non-food events such as speeches or music, clean-up, invoicing, etc. The food truck industry is coming of age. You get the funkiness of a food truck with the professionalism of a service organization.