We know catering is a key component of a wonderful and successful wedding reception; we are here for you, and will help you create joyful memories.
We are quite flexible and can accommodate various settings, from a private property to the venue you select, and from a buffet style setting, family style serving, or to platted food served at the table. We also cater events where the food truck is not necessary as a kitchen is available. Your choice!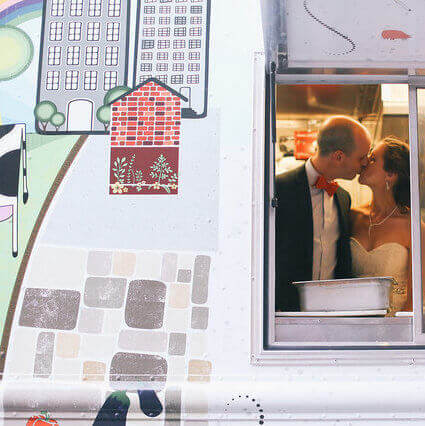 ---
---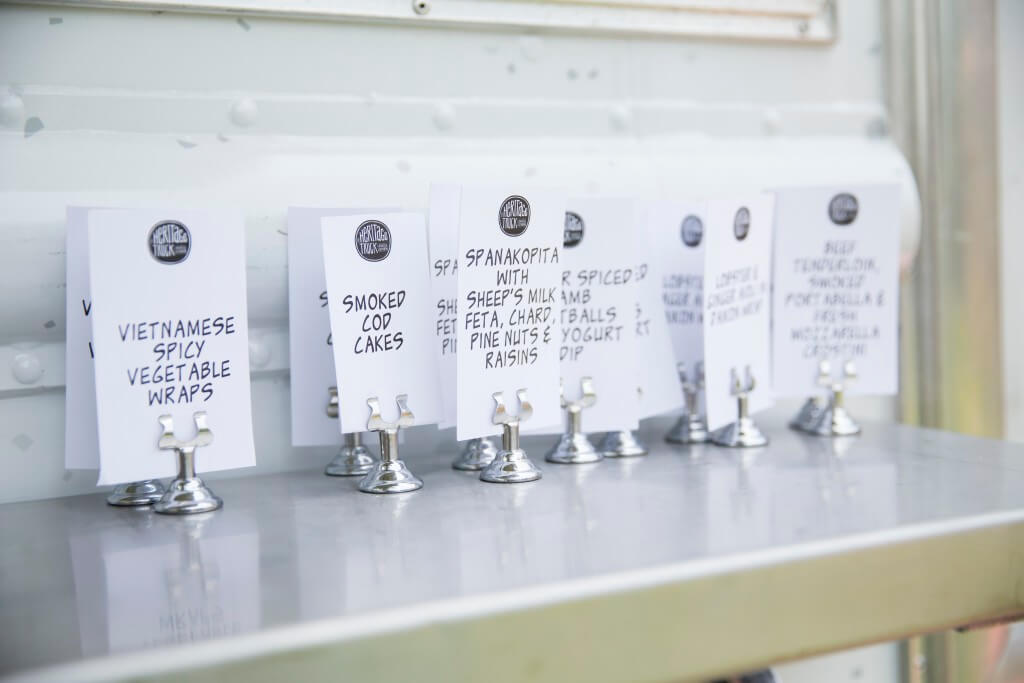 ---
Six reasons to have a Food Truck Wedding!
It will bring a hipster, foodie dimension to your event. The presence of our food truck on the premises will generate interest and conversation, because trucks are known for offering creative, state-of-the-art food.

You will create a splash. Your guests will want to climb inside the truck and see how it works!

It will allow you to spend less per guest than with a traditional venue event. You will not have to rent a ballroom with a large kitchen. In fact, you can have your wedding absolutely anywhere on private land. If the event is taking place in a private home, nobody will have to invade your personal kitchen.

Your money will go into the food, not the kitchen or the venue.

Working with our food truck will give you great flexibility in terms of wedding size and budget. We can cater casual weddings from $20 per guest all the way to $200 per guest for very high-end weddings. We do have a minimum of $2,500 per wedding.

Our Chef can duke it out with the greatest chefs of Boston, but she also knows smaller budgets can be great "street eats."

For larger events and/or ambitious menus, we can bring multiple trucks to your event. The Heritage truck is always our anchor truck and can serve up to 250-300 people, but we can bring along some of our brothers and sisters from the Boston trucking family. As a general rule, each truck will have minimum per wedding to justify its cost, so plan accordingly.

We can transform your event into a mini food truck festival if you have a large group or a creative menu and larger budget.

We can deliver the food in a variety of ways. We can serve the truck-prepared food at tables as with traditional catering. We can set up a buffet with chafing dishes for the truck food. Or we can have guests walk to the food truck window if you want the true street-vending experience. And we can of course mix and match all of the above.

Flexibility is our middle name.

We organize tasting sessions periodically in our Stock Pot Malden commissary for event organizers and potential customers.
Come see us in our natural habitat and start building your event with us in real time.
Need ideas of what we can offer? Keep reading…
---
Check out a few menu ideas and explore possibilities!
There are different ways to cater a wedding, as well as a rehearsal dinner, post-wedding day party etc. We have assembled very specific menus in our "menu" navigation tab, which will give you allow you to start from a price point per person, or start from a list of individual items.
In the mean time, here are some examples below of what we usually serve. Chef Lorena is well versed in the Cuisines of the world, and can adapt to your tastes and dietary restrictions.
---
Appetizers
Peach Bruschetta with Goat cheese and honey
Mini -Lime and Chili Crab Cake, with Black Garlic Aioli
Tomato Risotto Balls with Basil Aioli and Dried Tomatoes
Potato Latkes, Caramelized Onions, Black Truffles and Roasted Peaches
Tomato Risotto Balls with Basil Aioli and Dried Tomatoes
Herb Tofu Ricotta Summer Courgettes Stuffed with Pomegranate Reduction and Pistachio (vegan)
Polenta Chips with Basil Aioli and Edible Flowers
Entrees
Chicken Fricassée with Lyonnaise Potatoes
Chicken Cordon Bleu Quesadillas
Slow-Cooker Coq Au Vin with Velvet Smash Potato
Peanut-crusted chicken breast, cucumber round, red onion sweet chili relish and potato terrine.
Stuffed chicken breast, dried tomatoes, spinach and cream cheese with champignon sauce, mushroom risotto and Parmesan wafers.
Filet of Beef au poivre
Roasted shallots, creamy green peppercorn sauce, sautéed potatoes, garnished with fried parsnips.
Dessert
Summer Berries Tart
Baked Local Apples with Streusel, Orange and Vanilla Cream
Swedish Midsummer Layer Cake with Seasonal Berries
Baked local apples with Streusel, cranberries and vanilla cream
Pear Tart Tatin
Red Wine Poached Pears
Chocolate Mousse Parfaits
---
What a food truck weeding can look like in pictures:
The example below is a pretty typical case of our bringing the food truck as a finishing kitchen, with a buffet style setting. The photos describe the whole event, from the initial setting up early in the afternoon, to our staff serving desert well into the beautiful summer night!
---
---
We realize having a food truck at your wedding might be seen as a bit unusual, and we get a lot of questions around "how will it work on our wedding day". Here is a starter list: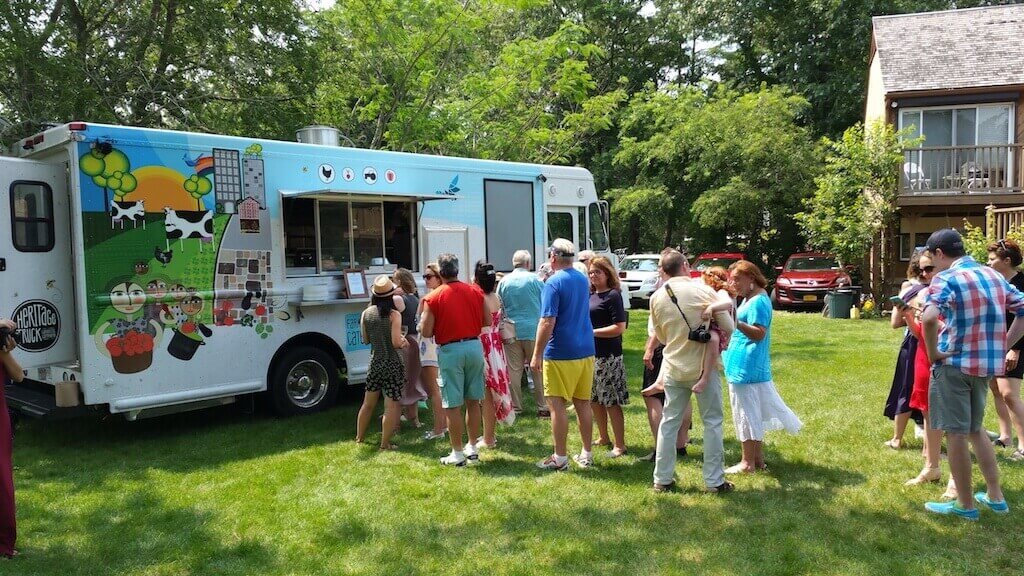 Six frequently asked questions about food truck weddings
Will there be long lines in front of the truck at my wedding?

There will not be any lines, unless you want to have them. We can offer table service as you would have from a regular caterer, or place the food on a buffet, like in a traditional wedding.
We are uniquely able to do that because the Heritage truck is a state-of-the-art full kitchen on wheel. It is housed in a larger-than-usual food truck (18 feet long) that comprises equipment you will not find on a street-vending food truck.
We have also devised a unique hub-and-spoke configuration that allows the Heritage kitchen to work in conjunction with other food trucks that prepare specific elements of the meal (e.g., ethnic appetizers, fish or deserts). The entire experience is orchestrated through the Heritage kitchen, creating an integrated experience similar to the one you would have with a central caterer.

What if it rains on the day of my wedding?

This is no different from any other outside event you might have. We are very happy to deliver the food as a sit-down service or as a buffet under a tent or inside an adjacent building or home.
Be sure to have a back-up plan for rainy days.

Are there regulatory issues in having a food truck at my wedding?

Food trucks are allowed to do private events such as weddings as long as they are not doing public vending or creating traffic problems. The regulation you may have heard about applies to street-vending which is indeed quite regulated by the various cities.

Professional wedding caterers let you sample their food. Do food trucks do too?

Yes we do. This is why we set up regular events in Malden where you can come and see what the Heritage Food Truck offers. Come and sample the truck and the food.
The Heritage food truck will also make house calls to show you what we can do for you (by appointment only).

Isn't it true that food trucks are best used at the end of the wedding, for people who need a nosh before hitting the road (and stabilizing their alcohol content!)?

Food truck can play this "after hour" role (e.g., hot dog truck, coffee truck), but their quality is such that they are best used as complementary to the main food truck caterer. The Heritage food truck only operates as the main attraction, but we will happily refer you to "end-of-event" food trucks.

Can food truck caterers plan my wedding food with the same professionalism as professional caterers since they are run by chefs, not service or relationship people? Will event organizers be frustrated dealing with food trucks?

At Heritage, we have a professional food planning capability for your wedding. We will co-design everything with you: participant experience, movement of crowds, checking guest lists, choreography of food, interaction with non-food events such as speeches or music, clean-up, invoicing, etc. The food truck industry is coming of age. You get the funkiness of a food truck with the professionalism of a service organization.
---
Ready to find out what we can offer for your wedding banquet? Fill out a catering information request here
---
A Wedding Story…
May be you will relate and it will make you smile! Well, rest assured we will do our best so you have a fantastic wedding day!
THE DAY OF THE WEDDING, BEFORE THE GUESTS' ARRIVAL
It's a beautiful wedding day on the Massachusetts countryside, but there is some chance of rain later in the afternoon. The bride's gown is breathtaking, but she hates the flowers that were just delivered. The groom is Bratt Pitt-good-looking but paces nervously because he fears the music will be too loud for his parents and the jokes off-color. The mother of the bride is happy for her daughter but does not want to be seated next to the mother of the groom whom she finds vulgar. One of the bridesmaids has forgotten her dress at the hotel. The bride's best friend is stranded at the Chicago airport by a thunderstorm. The cousin who always gets drunk at weddings is already there because he got confused on starting time. The smile on the event planner's face is frozen for eternity, hiding inner panic. Just another wedding …
The last thing anyone needs at a wedding is to worry about food. This is where the Heritage Food Truck comes in. As it pulls into the driveway several hours ahead of the first guests' arrival, you suddenly realize you are in good hands: the food will be spectacular, the truck beautifully eye-catching, the staff empathetic and the service world-class. Prepare for the experience of a lifetime, as you should expect on this special day.
A FEW MONTHS EARLIER …
Bride- and groom-to-be started planning for their wedding several months ahead of the actual wedding. They explored traditional venues, but rapidly agreed that, as good millennials that they are, they should not end up in a hotel ballroom serving chicken cacciatore to all their cool friends and dancing to Frank Sinatra. This was the last thing they agreed on.
She wanted to get married on a farm at the New Hampshire border. He wanted a vineyard on Cape Cod. Her mom proposed renting out a museum in a Boston suburb. Her father thought the Elks in their hometown would be perfectly adequate … and cheap. The bride ultimately prevailed by trading a wedding invitation to a couple of unruly fraternity brothers of her future husband against the right to pick the farm location.
They contacted three caterers and requested menu options, giving them a general price range per guest ($50) and a headcount estimate (150 people). The farm had a very basic kitchen and a large space able to accommodate the party in case of bad weather. Two of the caterers would prepare some of the food on-site, but the bulk would have to be prepared in their kitchen in Boston and transported in hotel pans and heated bags to the location of the farm near the New Hampshire border.
In the end, bride and groom thought the Heritage food truck offered a more exciting option since the food would be prepared and served fresh at the wedding location. The Heritage Food Truck's executive chef (Chef Lorena) suggested they pick three appetizers among a list of eight and three main dishes among a similar list of eight (see example of wedding menu). Dessert would be provided through a colleague of Chef Lorena. They discussed that the alcohol would be handled through a separate provider. They agreed to serve the food buffet-style rather than plated at the table, which allowed Heritage to offer more food for the price by reducing the service cost.
They went through three rounds of menu amendments over the ensuing two weeks. Once the menu started gelling, bride and groom were invited to come to the home kitchen of the Heritage Food Truck (Stock Pot Malden) and taste the food on the future menu. They also saw the Heritage truck for the first time and visited the kitchen where some of the preparation of their food was to take place (e.g., chopping of vegetables that will be cooked on the truck). This produced another series of small adjustments to both the food and the service budget for the Big Day.
The father of the bride came with bride and groom to sign the contract with Heritage. They agreed on a fixed price contract, with a deposit securing the commitment on both sides. In the month preceding the actual wedding, the number of guests was adjusted downward as a function of the RSVPs received, producing a small increase of the food budget per person and allowing one more appetizer.
THE BIG DAY
It turns out to be a splendid fall day. The air is crisp, with a gentle wind. The contemporaries of the bride and groom are gathering in small groups, some discreetly chasing the appetizer plates that are being passed around. Many of them are fit, work downtown Boston and are quite used to food trucks. A food truck represents more of a novelty for the parents' generation and many are curious to see what the inside looks like. The more adventurous ask if they can take a peek, allowing them to observe the ballet of cooking staff dancing around each other in the narrow corridor of the truck. Many reference the movie Chef and wonder whether the Heritage Food Truck sometimes serves cubanos (yes, we sometimes do, using local produce).
The menu (see examples below) incorporates several of the produce grown at the farm where the event is taking place: heirloom tomatoes and corn in the succotash appetizer; Boston lettuce and rainbow radishes in the garden salad; celery roots in the celeriac puree that accompanies the beef brisket, itself sourced from a neighboring local farm. The tomato field is visible from the tent where people are eating and dancing. The corn fields are a little farther in the distance.
Night is now falling on the farm and many of the guests have already departed. As they are leaving, the bride and groom make a point of coming to the staff to thank them for a wonderful event. Their parents follow in short order. The bucolic landscape, coupled with the farm-focused decoration of the Heritage food truck, seems to weave an intergenerational bond around a return to a simpler life on the countryside. "May the bountiful beauty of the event serve as a metaphor for the future life of this young couple", the mother of the bride says. For the staff, this makes it all worthwhile and their fatigue instantaneously disappears.